Geographic Indications and International Trade (GIANT)

1. The Issue
The embargo that the United States holds against Cuba dictates strict restrictions on trade and business associations between the two countries, and this inherently includes ownership of a company that operates within the United States. However, ownership itself has caused the dispute. This case examines the ownership status and the rights of the owner of Havana Club rum, and the circumstances under which this theory is derived. This case is not simply an international intellectual property dispute; rather, it plays on many aspects of industry, production, and international relations. I plan to examine this from the perspective of the IPR issue as a violation of the TRIPS agreement (see Legal Cluster). I also would like to evaluate the rum's place and effect in industries such as sugar and alcohol (see Environmental and Trade Clusters). This not only has reverberations in the United States and Cuba, but it also affects the EU, as the other owner involved is the French marketing company Pernod Ricard, and even the rest of the world, through the exportation of the rum worldwide.
2. Description
I will approach this analysis with a perspective of Cuban rum, which includes the sugar trade (as it is an ingredient of the rum) and Cuba's alcohol trade. A proper analysis of the Havana Club Cuban rum trademark dispute must include a history of Havana Club rum. The background of conflict over this product has created confusion as to the real owner of the famous trademark. This examination will encompass Cuba's issue of state takeover upon Fidel Castro's coming into power. I then will proceed to discuss the U.S. role in the "Havana Club" trademark breach in relation to the Agreement on Trade-Related Aspects of Intellectual Property Rights (TRIPS) in order to apply the intellectual property rights in perspective internationally. The United States is attempting to market Havana Club rum under a U.S. trademark, yet it breaches laws such as the US-Cuba embargo and the TRIPS agreement. This dispute clearly will have reverberations worldwide; for this reason I believe it is important to examine this conflict in order to better evaluate and enforce laws and standards in any such cases that may surface in the future.
3. Related Cases
Cuba:
Intellectual Property:
BASMATI
BIODIV
HAVENS
GRAPPA
TEQUILA
BUDWEIS
FETA
PISCO
SCOTCH
MEXBREW
CANOLA
HAITIART
Keywords: Rum, Intellectual Property, Cuba, Bacardi, Havana Club
4. Author and Date: Jacqueline Lirtzman, December 19, 2001
5. Discourse and Status: Disagreement (Legal Proceeding), In Progress
Many alcohol products have gone through disputes regarding intellectual property rights, such as Tequila and Pisco. This is a common conflict arising in the food and drink industry because of, for example, location- or ingredient-specific processes. For example, it is the Cuban sugar cane and the elements of the distillation process that make Cuban rum unique.
The case against Bacardi originates from the copyright laws of the World Trade Organization. From the Uruguay Round Negotiations came the Agreement on Trade-Related Aspects of Intellectual Property Rights (TRIPS Agreement), a tool for the protection and enforcement of intellectual property rights on an international scale. This case fits into this agenda for the simple reason that the name "Havana Club" is being used by a company other than the owner.
This conflict began because of the Cuban revolution, as the dictatorship espropriated all privately owned companies. The Arechabala family lost their company, as did the Bacardis, and they went into exile in the United States. Although the Arechabala family still held onto the trademark for a little while, they let it slide into public domain in 1973; it only would have taken $25 and a couple signatures to maintain ownership of the trademark.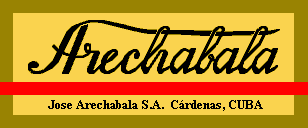 Cubaexport, a government-controlled entity formed when the Arechabala family lost their company, held the trademark in the United States and then sold it to HCH in 1993. Thus, "Havana Club" rum remained as Cuban property, a true Cuban icon.
The Cuban entity of Havana Club joined with Pernod Ricard to form Havana Club Holding (HCH), owning the rights to the name. In the 1990's the Bacardi family tried to find heirs of the family that founded the brand so that they could sell it in the United States. A company called "Jose Arechabala International" was set up from scratch in Liechtenstein in 1997. It sold Bacardi rights to the trademark it never owned and that the family had long ago relinquished.
---
APPLICATION OF TRADEMARK LAW IN HAVANA CLUB CASE:
A primary conflict in this case arises regarding the right to sell Cuban rum in the United States. To be sure, the embargo against Cuba prohibits trade between the two countries. Therefore, if this rum that Bacardi sells in the United States under the name "Havana Club" actually is Cuban rum, it is illegal. However, Bacardi is not a Cuban company, nor do they produce any rum in Cuba. In this case, Bacardi may sell their version of Havana Club in the United States. At this point, the issue becomes the (knowingly or unknowingly) pirated trademarked name "Havana Club."
The TRIPS agreement covers issues concerning copyright and related rights, trademarks, patents, geographical indications, industrial designs, layout-design of integrated circuits, and undisclosed information. The issue surrounding "Havana Club" can fall under several categories, most likely copyright, trademarks, and geographical indicators. For example, Article 22.3, under geographical indicators, states the following:
The registration of a trademark which uses a geographical indication in a way that misleads the public as to the true place of origin must be refused or invalidated ex officio if the legislation so permits or at the request of an interested party.
This case, however, has been pursued specifically under trademark regulations determined by TRIPS, which should be appropriate for this particular case, and Article 42 is particularly said to apply on behalf of the Havana Club Holding:
Article 42: Fair and Equitable Procedures
Members shall make available to right holders civil judicial procedures concerning the enforcement of any intellectual property right covered by this Agreement. Defendants shall have the right to written notice which is timely and contains sufficient detail, including the basis of the claims. Parties shall be allowed to be represented by independent legal counsel, and procedures shall not impose overly burdensome requirements concerning mandatory personal appearances. All parties to such procedures shall be duly entitled to substantiate their claims and to present all relevant evidence. The procedure shall provide a means to identify and protect confidential information, unless this would be contrary to existing constitutional requirements. (TRIPS)
Section 211 of the US Omnibus Consolidated and Emergency Supplemental Appropriations Act of 1998 is said to conflict with Article 42 of the TRIPS agreement, as shown above. This sections declares that "no court shall recognize, enforce, or otherwise validate any assertion of rights by a designated national based on common law rights or registration obtained under the licensing of such a confiscated mark, trade name or commercial name." In other words, a trademark that is traced back to ownership that was confiscated by the Cuban government is not legally protected in the United States under U.S. or WTO trademark rights, and leaves any companies that fall under this category with no judicial recourse in a system that is precisely based on the availability of judicial recourse. This amendment, which was retroactively applied in this case, gives Bacardi the right to continue using the name Havana Club.
The E.U. requested that the WTO consider the validity of Section 211 in light of TRIPS (section mentioned above), of which both the E.C. and the U.S. are members. TRIPS requires that members of the agreement make available civil judicial procedures concerning the enforcement of intellectual property rights covered by the agreement. The United States, rather, claims that the core issue in the Havana Club dispute "is whether the TRIPS agreement requires the United States to recognize and enforce trademarks used in connection with assets that have been confiscated/expropriated without compensation from their rightful owners."
The WTO panel found that Section 211 violates this aspect of TRIPS by failing to provide to certain Cuban trademark holders judicial recourse in U.S. courts. The panel recommended that the United States bring its laws into conformity with its obligations under the TRIPS agreement. The panel's decision is not final, but if the WTO's appellate body were to backed the decision, the U.S. would be bound by that decision.

This ruling will have far reaching implications regarding existing and future U.S. trademark security in Cuba as well as such trademark disputes regarding generic pharmaceuticals produced at a cheaper price in developing countries without a trademark licensing agreement.
6. Forum and Scope: GATT/WTO, Bilateral/Multilateral
7. Decision Breadth: Cuba, United States, European Union
8. Legal Standing: Treaty

9. Geographic Locations
a. Geographic Domain: North America, Europe, Caribbean
b. Geographic Site: Southern North America
c. Geographic Impact: United States, Cuba
10. Sub-National Factors: No
11. Type of Habitat: Tropical

12. Type of Measure: Intellectual Property
13. Direct v. Indirect Impacts: Direct
14. Relation of Trade Measure to Environmental Impact
a. Directly Related to Product: Yes: Rum
b. Indirectly Related to Product: Yes: Sugar
c. Not Related to Product: No
d. Related to Process: Yes: Intellectual Property
15. Trade Product Identification: Rum
16. Economic Data:
To be sure, Cuba and the United States do not have trade relations. The Helms-Burton bill delineates strict restrictions to the interaction between the two countries. For this reason it is difficult to analyze trade in this case. The most we can do is speculate as to the business we believe is lost due to the embargo. The rum trade is clearly a lucrative industry. Cuba's Havana Club International knows that Bacardi is making a lot of money from the United States market, but a part of it comes from a product with a Cuban trademark. Rum is a major import of the United States, especially Bacardi rum. Its market value is estimated to be $1.5 billion; Americans consume 12 million cases a year, and half of this comes from Bacardi. Bacardi is able to keep hold of its place in the US market because of its non-Cuban status. The Bacardi name left Cuba with the Bacardi family when the Cuban government seized its assets at the onset of the Revolution and it became a non-Cuban company. It is in this way that Bacardi even has the opportunity to compete in the US market at all. And, with the historical Cuban image, Bacardi can appeal to buyers with their "exotic" Cuban-founded company. The following chart displays the top fifteen countries from which the United States imports rum. Caribbean countries hold the largest portion of the market, as the finest rum is found in the Caribbean region.
Rum and tafia, in containers each holding not over 4 liters, valued not over $3/proof liter
Dutiable Value by Customs Value For ALL Countries
U.S. Imports For Consumption
Country

1996

1997

1998

1999

2000

2000 YTD
2001 YTD

Percent Change YTD 2000-YTD 2001

In 1,000 Dollars

Jamaica

0

134

749

649

799

709

264

-62.8%

Dominican Republic

0

102

247

257

187

101

221

117.8%

Nicaragua

0

64

84

108

119

80

133

66.3%

Colombia

0

21

75

75

111

45

103

126.2%

France

0

0

19

12

12

0

90

N/A

Canada

0

0

13

63

124

42

89

111.3%

Haiti

0

11

56

77

75

54

55

1.3%

Brazil

0

21

41

67

71

36

54

48.8%

Trinidad & Tobago

0

40

66

72

72

44

46

6.6%

Mexico

0

25

13

0

43

17

32

88.1%

Austria

0

0

0

0

19

6

24

295.3%

India

0

0

0

0

0

0

23

N/A

Bahamas

0

0

0

3

7

7

13

77.3%

Anguilla

0

0

76

167

0

0

0

N/a

Guyana

0

2

6

0

7

7

0

-100.0%

Subtotal:

0

422

1,444

1,550

1,647

1,149

1,146

-0.3%

All other:

0

103

191

82

79

53

0

-100.0%

Total:

0

525

1,636

1,632

1,726

1,202

1,146

-4.7%
The data I can provide regarding the international rum market indicate a large participation by the Caribbean countries. As a Caribbean country, Cuba has the agricultural ability (the abundance of sugar cane) and distillation capacity to hold a market share. Yet the tension still exists regarding a Cuban-originated company making money in the United States rum market because Cuba is left out of this realm. Interestingly, although the rum market seems like it would be a major element of the Cuban economy, none of the data I have found include rum as a primary or major source of income for the country. Rather, it would be included in the "other" statistics. The rum trade, rather, is a smaller element of the sugar industry in Cuba, which has been the major export since the birth of the country in the 16th century by Columbus.
17. Impact of Trade Restriction: High
18. Industry Sector: Food
19. Exporters and Importers: Cuba and Many

20. Environmental Problem Type: Habitat Loss
The sugar cane plant comes from the Pacific islands, via China and India to Brazil. St. Hilaire Begorrat, a French creole colonist, introduced it to Trinidad. It was also grown in Spain, and because of the growing demand for larger quantities of pure, high quality sugar, the Spanish Monarchy sent sugar cane to the New World to begin cultivating it in increased amounts. The sugar cane that is currently cultivated in Cuba originated from Christopher Columbus's second voyage in 1493. He immediately planted the cane and it flourished with the perfect climate that had already been acclimatized in the tropical Canary Islands of Spain. "Your majesty, the sugar canes, the few that were planted there, have taken."-Letter from Christopher Columbus to their Catholic Majesties, January 1494.

The sugar cane plant was transformed into sugar cane juice, then converted into alcohols, of which one stood out for its clarity and agreeable taste: the aguardiente, which in distillation after distillation gave life to the rum. It was not until to the 19th century that a new manufacturing process began to develop that turned the product into a drink of estimable quality and competence. This is when the real Cuban rum was created, linked to the economic advances of the country and as consequence of them.
Cuban rum is made of "Cuban single cane," which is an expression to describe the process of distillation. Cuban rum is made of a single raw material, fresh cane sugar molasses, with high sugar content. This gives Havana Club rum its strong, unique aroma. Havana Club rum retains a superior quality because of its location on the coast, which provides regular humidity levels, lots of tropical sunshine, and a Caribbean breeze. These factors in addition to special distillation processes and authentically Cuban, top-quality sugar cane, create the Havana Club rum which has been so highly esteemed worldwide since 1878.
Distillation Process:
Rum is produced from sugarcane. Molasses is a final by-product in the production of sugar. In its raw form, no more sugar can be crystallized from it by the factory process, but it still contains a high percentage of sugar. In addition, molasses contains a large number of minerals and non-sugar organic compounds. The non-sugar organic compounds are essential in the production of rum since most of the flavor and aroma characteristics of rum originate in these compounds. They derive, as well, from the oak barrels in which they are fermented. A longer period of fermentation creates a darker, richer color.
Sugarcane is harvested in the dry months of January through April. It is crushed to yield a sweet, sticky juice. The juice is boiled, then crystalized, to concentrate and separate what will become the raw sugar, and leaves the molasses behind. The molasses is then diluted and fermented, a process that converts it into a liquid, called the mash, that contains about 5 percent alcohol. The mash is distilled to about 70 percent alcohol. Better rums are then matured, generally in oak barrels, before they are filtered, diluted to 40 percent alcohol and bottled.
21. Name, Type, and Diversity of Species
22. Resource Impact and Effect: Medium and Product
23. Urgency and Lifetime: Low and 5-10 years
24. Substitutes: Rums
VI. Other Factors

25. Culture: Yes
26. Trans-Boundary Issues: No
27. Rights: Yes
28. Relevant Literature
Alvarez, José and Lázaro Peña Castellanos. Cuba's Sugar Industry. (Gainesville, FL : University Press of Florida, 2001).
Campoamor, Fernando G. El hijo alegre de la caña de azúcar : biografía del ron cubano. (Ciudad de La Habana : Editorial Científico-Técnica, 1985).
Center for International Policy. "WTO Ruling Keeps Bacardi-Pernod Ricard Battle Alive." http://www.ciponline.org/cuba/newsarticles/wsj061301price.htm
Global Exchange. "Cuba, denied rum brand, could make 'Coke'" http://www.globalexchange.org/campaigns/cuba/US-Cuba/reuters060701.html
Havana Club Rum web site. http://www.havana-club.com/uk/home.html
Imparato, Nicholas, ed. Capital for our Time : The Economic, Legal, and Management Challenges of Intellectual Capital. (Stanford, CA: Hoover Institution Press, 1999).
McCracken, Richard, and Madeleine Gilbart. Buying and clearing rights : print, broadcast and multimedia (London: Blueprint, 1995).
Roos, Johan. Intellectual Capital : Navigating in the New Business Landscape. (New York : New York University Press, 1998).
Third World Network. http://www.twnside.org.sg/index.htm
World Trade Organization, Agreement on Trade-Related Aspects of Intellectual Property Rights. http://www.wto.org/english/tratop_e/trips_e/t_agm0_e.htm
Image Credits:
Background Picture: http://www.caribphoto.com/caribbea.htm
Bacardi Symbol: http://www.bacardi.com
Animated Palm Tree: http://www.caribphoto.com/caribbea.htm
Havana Club Symbol: http://www.havana-club.com
Cuba Flag: http://www.cubatrade.org
Arechabala Label: http://delafe.com/cardenas/arechabe.htm
Christopher Columbus: http://www.havana-club.com
WTO logo: http://www.wto.org
---

1/2002