1. Abstract
In 2008-2009, there was a border dispute between Thailand and Cambodia. It was over Preah Vihear, an ancient temple that was a long-standing conflict. In 1962, the International Court of Justice awarded ownership of the temple to Cambodia. Jump ahead to March 2008, when Cambodia attempted to unilaterally inscribe Preah Vihear in the United Nations Educational, Scientific and Cultural Organization's (UNESCO) list of World Heritage Sites. It did not consult Thailand beforehand.
2. Description
The Thai Government originally support to the designation and the Cambodian move. But after a Thai court ruling on the sovereignty of the matter, national sentiment turned against the agreement. It was a key issue for the People's Alliance for Democracy (PAD) or the Yellow Shirts.
In 2008, UNESCO included the Preah Vihear temple in the list of World Heritage Sites. This lead to a crisis for Thailand, who deployed military troops to its border area. Cambodia claimed Thai solders crossed into Cambodian territory. Cambodian Prime Minister Hun Sen sent military troops to the area. Thai and Cambodian soldiers deployed amounted to about 480 and 800.
A key legal question is based on prior claims set forth by the French, who controlled IndoChina, and the Thai government (then Siam). In 1904, Siamese and French colonial authorities in Cambodia agreed on a joint commission to demarcate border. The intent was to roughly follow the watershed line of the Dângrêk Mountains. Thailand argues that these maps mis-represent water eco-system drainage; conclusions that were the basis for the line. There is some merit to their argument.
It is very old Hindu temple, dedicated to the god Shiva, and built during the period of the Khmer Empire. Construction began in the 9th century and continued for hundreds of years.
It was one of the last places in Cambodia to fall to the Khmer Rouge in 1975. Ironically, it was one of the last areas that the Khmer Rouge held before their demise. As they lost the battle, Khmer Rouge troops finally retreated a steps in Thailand to escape capture.
Conflict Location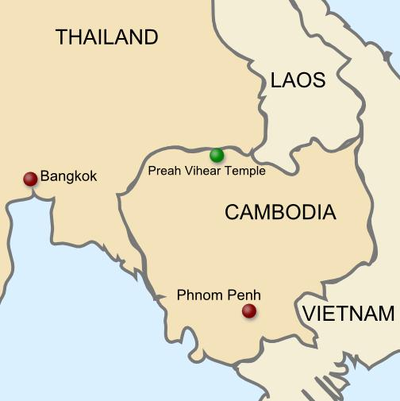 Licensing: This image is in the public domain because it contains materials that originally came from the United States Central Intelligence Agency's World Factbook.
3. Duration: 2008 to today
4. Location

Continent: Asia
Region: East Asia
Country: Cambodia
5. Actors: Cambodia and Thailand

6. Type of Environmental Problem: Border
7. Type of Habitat: Tropical
This is a relatively remote area, so the conflcit may have more to do with the temple than with resources along the border. Both sides however benefitted from tourism, so the situation has become less conflictual in recent years.
8. Act and Harm Sites: Thailand and Cambodia

9. Type of Conflict: War
Conflict re-occurred in 2011, when clashes broke out in the area between soldiers from the two countries. These clashes, however, more more incidental to close military interactions than to a strategic change in direction.
10. Level of Conflict: Low
11. Fatality Level of Dispute (military and civilian fatalities)

12. Environment-Conflict Link and Dynamics: Direct
Direct control of border and its resources.
13. Level of Strategic Interest: Bilateral
ASEAN members have nee reluctant to intercede in the dispute. Indonesia turned down such a request.
Google Maps however clearly show the temple within Cambodian territory. They are baed on U.S> State Department recognized claims.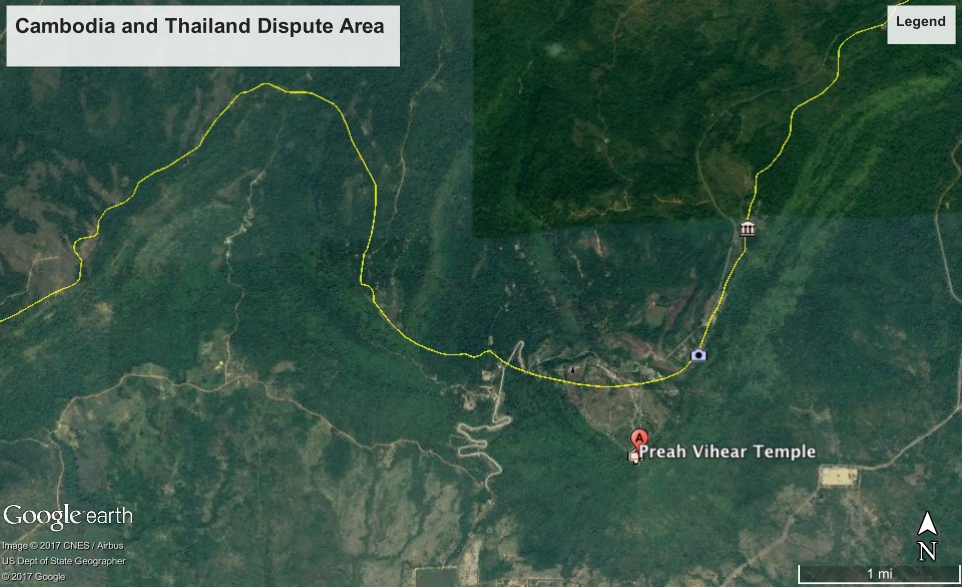 14. Outcome of Dispute: in Progress
15. Related ICE Cases
Go to Ice Search Engine and Scenario Builder
16. Relevant Websites and Literature
"Preah Vihear Temple", International Crisis Behavior>, source: https://sites.duke.edu/icbdata/data-collections/ Go to Article
"Preah_Vihear_Temple", Wikipedia, accessed June 20, 2017. https://en.wikipedia.org/wiki/Preah_Vihear_Temple
"Temple of Preah Vihear", UNESCO, accessed June 20, 2017. http://whc.unesco.org/en/list/1224