Public Opinion and the Government's Response

Although public opinion surveys show that most Peruvians do not sympathize with rebel movements and are vehemently opposed to terrorist violence, experts who have studied the country's insurgencies say that Peru will not overcome rebel activity and related violence until it alleviates the social and economic problems that draw people into these groups [Sims, 1997]. (For more see "Arrest of rebel's kin" at Latinolink.) "The guerrillas' message is still appealing in Peru not only because there is rampant poverty but also because there are so many people, especially young people, whose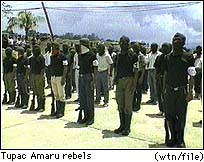 dreams are deferred,'' says Cynthia McClintock, a professor of political science who specializes in Latin America at George Washington University [Sims, 1997]. Close to half of Peru's 24 million people live in poverty, 85 percent of workers do not have full-time jobs, and nearly 17 percent live in extreme poverty, meaning they are not adequately nourished [Sims, 1997]. Although most of these conditions pre-date President Alberto Fujimori, the percentage of Peruvians living in poverty increased last year to 49 percent, from 46.5 percent in 1994, according to Caunto S.A., an economic forecasting firm [Sims, 1997].
Responses from villagers to the recent events have shown some sympathy for the rebels, particulary the younger members. For example, one shopkeeper from the MRTA home base had this to say about the whole ordeal. "I don't see why they had to kill them all. Any person, knowing that they're about to die, would repent, and as long as they're alive, they can change.'' The shopkeeper agreed that Fujimori had the right to order the raid on the compound, saying, "There were innocent people in there, and they had families that were suffering each day they were held.'' (More on hostages.)The same person also stated that something had to be done about the continued use of violence by rebel groups [Schemo, 1997]. "I'm poor, but I have thoughts and feelings, too,'' the shopkeeper repeated several times.
Others make a clear distinction between the MRTA and The Shining Path. When one woman was asked about her feelings toward the MRTA and its leader, Cerpa, she said that they were not in the same class as the Shining Path. "He was not a terrorist,'' she said. "He was a revolutionary.'' Another woman added, speaking low so as not to be overheard, "He fought for us, for the poor. Look at how we live. Look at how we die [Schemo, 1997]." People were most shocked by reports that stated the band of youths in the siege seemed naive, and that one had asked a hostage whether it was possible to walk back to Peru from Cuba, where they had been offered asylum.
Successive Peruvian regimes have carried out vicious counter- insurgency tactics to put an end to rebel and terrorist violence. Tens of thousands have been massacred, disappeared or executed by government forces. In 1983 and 1984 alone, the Peruvian military slaughtered 8,700 mainly poor peasants in their effort to crush the revolution. Between 1983 and 1992, over four thousand people were "disappeared" and thousands of others killed, including 500 which were slaughtered in 19 separate massacres, by military and police forces [Schemo, 1997]. In 1992, Fujimori, staged a coup to assume dictatorial rule over the country and institute even more sweeping reforms against the rebel movements. A few weeks after his coup, Fujimori carried out a massacre of 40 revolutionary prisoners at Canto Grande prison, today a battle cry for the MRTA [Schemo, 1997]. The number attacks has declined since Fujimori's government captured top rebel leaders in 1992. But a series of well-planned assaults, like the one in December, have raised questions and fears that the groups are resurfacing. The Hostages Freed
The MRTA captors warned that they would start killing captives if Fujimori did not appear for face-to-face talks. The MRTA demand and goal was the release of more than 450 MRTA members being held in Peruvian prisons. But the deadline for the executions came and went and Cerpa backed down. Instead, he announced that there would be no killing, at least not by the Tupac Amaru. Hostages say, Cerpa tried to win them over, engaging them in philosophical conversations about the free market economy and the poor whose lot, he strongly felt, would never improve. He inquired about The MRTA's public standing, and whether Peruvians distinguished between the Tupac Amaru and the more violent Shining Path. At one point Cerpa suggested that the Tupac Amaru could transform itself into a political party.
During the two weeks after the invasion, the rebels released most of the prisoners, including 225 in a "good-will gesture" shortly before Christmas. At the end of four months there were 71 hostages left in the compound. Fujimori and the rebels took part in negotiation talks but those talks only seemed to go in circles. Meanwhile, Fujimori almost immediately began taking steps for a counterattack to rout out the guerrillas. Before Christmas, a team of 140 commandos began training, working out maneuvers on a mockup of the Japanese ambassador's residence.
Ultimately, it was those very same forces that released the hostages in less than an hour without critically hurting any of the hostages. All the rebels were killed and later buried in unmarked graves. The government only disclosed the identity of two of the rebels and refused to permit any funeral services. The closing moments of this episode in Peru's long-standing civil war has brought relief to many and worry to others who fear retaliation is inevitable.
3. Duration: 1996
4. Location
Continent: South America
Region: West South America
Country: Peru
5. Actors: Peru and Tupac Amaru
6. Type of Environmental Problem: Habitat Sea
7. Type of Habitat: Tropical
8. Act and Harm Sites:


Act Site       Harm Site           Example



Peru           Peru                Peru Civl War and Habitat


9. Type of Conflict: Civil
Contrary to popular belief, the MRTA and the Shining Path are not one in the same, but rather they are arch rivals. The Shining Path, with about 2,000 active members, considers MRTA members traitors to communism, and the two groups have been warring against each other for over a decade in the Huallaga Valley. Abimael Guzman, Shining Path's founder, was captured in Lima >
---
Transfer interrupted!
involved financing from narco-traffickers on the side of the Shining Path. The growing of coca and the presence of drug-traffickers have always been a source of contention and rivalry between the rebel groups. It is estimated that more than 35,000 people, mostly civilians, have been killed as a result of the conflicts between the government and the rebel groups.
10. Level of Conflict: Middle
11. Fatality Level of Dispute: 10,000
12. Environment-Conflict Link and Dynamics: Indirect
Although the civil conflict centers around leftist rebels and the government, its roots go much deeper. Like most of Latin America, the primary arguments have been over land, including land rights, monocropping, and the growing of coca, and the racial tensions that have persisted since the 18th century.

Historically, Lima has always been the seat of government, trade, and industry and has controlled the highland regions where most of the indigenous populations and the argiculture takes place. But as can be seen by the figures below the majority of the population is ruled by the minority.
Peru's Ethnic Composition
Indigenous
45 - 47%
Mestizos
32 - 37%
Europeans
12 - 15%
Blacks and mulattos
2%
Asian
(Japanese and Chinese)
about 1%
Most of the non-indigenous population continue to view the indian populations culturally and racially inferior, and this has led to the continual siezing of community lands. Much of these community lands have been cultivated by the indigenous peoples of Peru for centuries, and a majority of these lands are also of great cultural and religious value to the peoples who inhabit them. Although former presidents, such as General Alvarado, have tried to institute land reforms and grant peasants better land rights, more just agrarian reforms and land rights have been detained by military coups and intervention from land owners and large agricultural companies.
The principle obstacles indigenous communities face when attempting to struggle for better representation are:
Language: For many Spanish is a second language.
Distance and transportation to Lima or other government posts is difficult
Poverty: Lack of education, health care, and other essential services makes it harder for these communities to stand up in their own defense.
Lack of community organization that would enable strategies for the consolidation and defense of territories.
Gradual displacement of the traditional crops for commercial crops (i.e.,coffee, cocoa) thus increasing the dependence on other sources of food and money for basic necessities.
NATURAL RESOURCES (LAND)

 _

                                

 |

 |

 |

 v



ETHNIC DIFFERENCES +    ----------->    CONFLICT  <------------  

+ VIOLENCE & IMBALANCE OF POWER


13. Level of Strategic Interest: State
14. Outcome of Dispute: Victory
15. Related ICE Cases
16. Relevant Websites and Literature
Relevant Literature
Poole, Deborah and Gerardo Renique. Peru: Time of Fear, Latin American Bureau, 1992.
Schemo, Diana Jean. New York Times News Service 28 April 1997.
Simpson, John. In the Forests of the Night, New York: Random House, 1993.
Sims, Calvin. New York Times News Service 23 April 1997.
Sims, Calvin. New York Times News Service 5 April 1997.
Tulchin, Joseph and Gary Bland. Peru in Crisis: Dictatorship or Democracy?, London: Lynne Rienner Publishers, 1994.