The Fergana Valley
Countries
The Valley is now divided between Uzbekistan, Kyrgyzstan and Tajikistan. In Tajikistan it is part of Soghd Province or vilayat, with the capital at Khujand. In Uzbekistan it is divided between the Namangan, Andijan and Fergana viloyati, while in Kyrgyzstan it contains parts of Batken, Jalal-abad and Osh oblasts, with Osh being the main town for the southern part of the country.
Population Demography
Currently characterized by a high density population, the Ferghana Valley holds a very significant portion of three countries' overall population 27% of Uzbekistan, 31% of Tajikistan and 51% of the Kyrgyz Republic, with an overall population of 10 millions people (up to 250hab/km2 to be compared with the average of 14 hab/km2 in Central Asia).
Country

Major Cities

Area (km²)

Population

Uzbekistan

Andijan

4,200

1,900,000

Fergana

6,800

2,600,000

Namangan

7,900

1,860,000

Kyrgyzstan

Batken


17,000

400,000

Osh

29,200

1,300,000

Jalal-Abad

33,700

962,000

Tajikistan

Khujand

25,400

2,100,000

TOTAL

124,200

11,342,000
Population Density Across Fergana Valley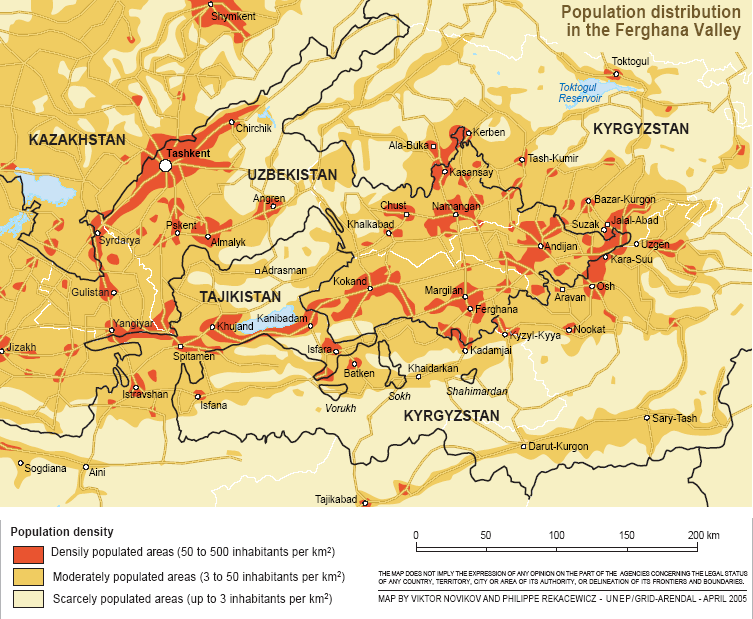 The Fergana valley is the most populous area in Central Asia. With these high population densities of mixed ethic groups located throughout this confined region, the result is a significant increase in competition for the dwindling natural resources left, which can lead to confrontations and even armed conflict for their control.
Source: UNEP/GRID-Arendal. Population distribution in the Ferghana valley . UNEP/GRID-Arendal Maps and Graphics Library. 2005. LINK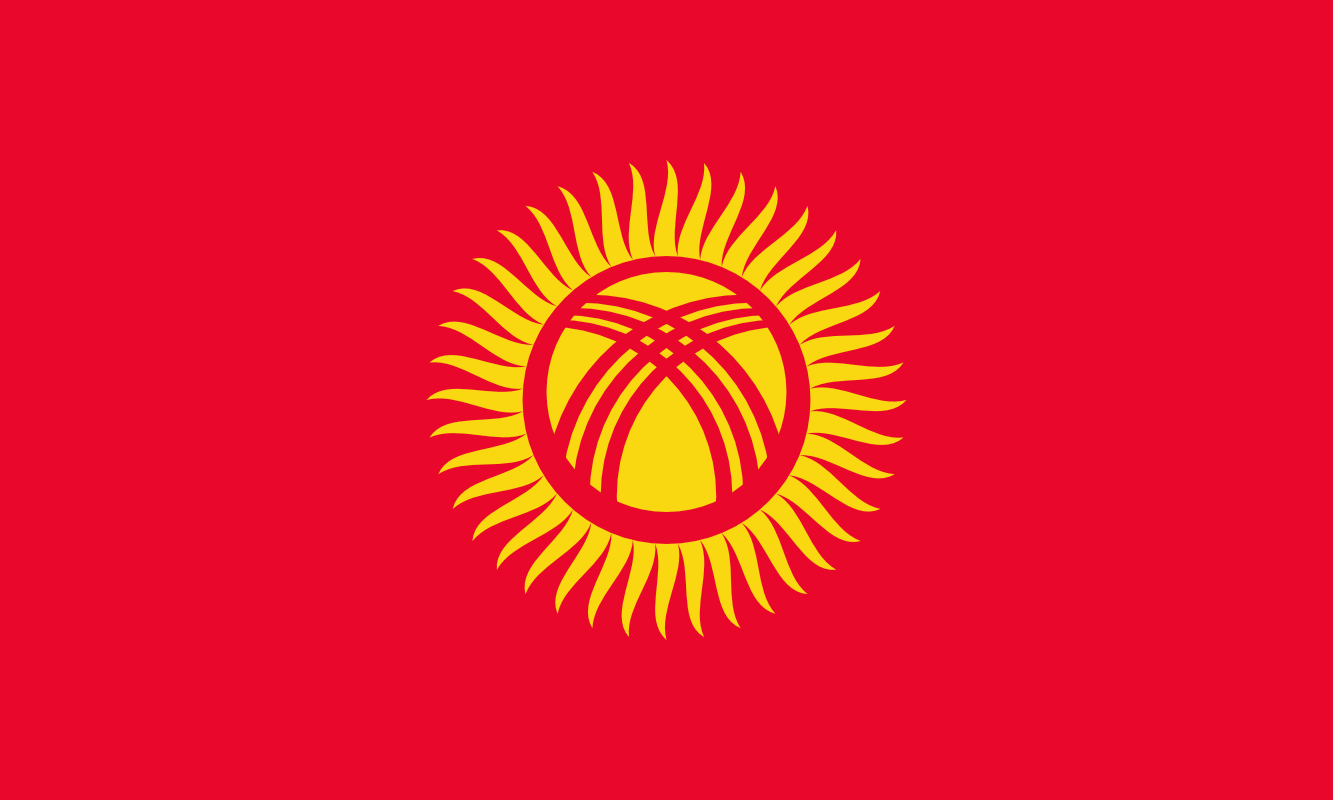 Area: 198,500 sq km
Population: 5.5 million
Capital City: Bishkek
People: 67% Kyrgyz, 14% Uzbek, 11% Russian,1% Ukrainian, Dungan, Uighur
Languages: Kyrgyz and Russian
Religion(s): Muslim/ Russian Orthodox and other Christian minorities

GDP: US$4.681 billion
Major Industries: Mining, hydropower, agriculture
Major trading partners: Russia, China, Kazakhstan, Switzerland, Uzbekistan
Key Facts:
Kyrgyzstan remains one of the poorest countries of the Former Soviet Union, and the world.


The Kyrgyz economy was severely affected by the collapse of the Soviet Union and the resulting loss of its vast market.


Agriculture is the largest sector of the economy accounting for 32% of GDP and more than half of all employment. Among Kyrgyzstan's mineral reserves are substantial deposits of deep-seam coal, gold, tin, uranium and other rare-earth metals.


Kyrgyzstan has negligible petroleum and natural gas reserves. The economy is heavily dependent on gold exports, and changes in production levels impact dramatically upon GDP.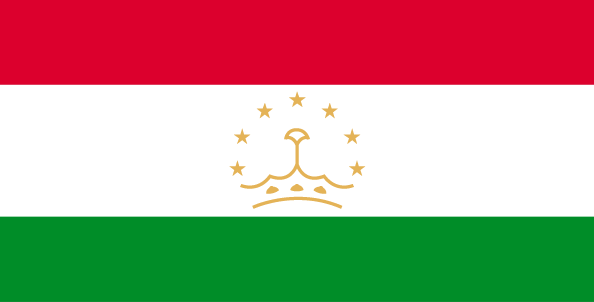 Area: 143,100 sq km
Population: 7.37million (Economist Intelligence Unit, 2010)
Capital City: Dushanbe (population: 0.7 million)
People: Tajiks 80%, Uzbeks 15%, Russians 1% and Others 4%
Religion(s): Sunni Muslim 85%, Ismaili Shiites 5%, some Russian Orthodox Christians and Jews.
Languages: Tajik and Russian
GDP: US$3.7bn
Major Industries: Nonferrous metallurgy, mining, hydro-power, textiles, cotton, fruit.
Major trading partners: Russia, China, Turkey, EU, Iran
Key Facts:
Tajikistan has a Gross National Income (per capita) of 700 US Dollars (World Bank 2009), making it the poorest of the former Soviet states.


The poor state of the roads, limited external transportation links and other infrastructure weaknesses hinder development.


The rationing of electricity in winter - when most of the country outside the capital receives no more than four hours (or less) of electricity a day - has serious implications for the ability of industry or IT to operate.


Most of the manufacturing plants from Soviet times have been abandoned, but have not been replaced by new production.


Around 75% of exports derive from a single large aluminium plant.


Cotton is the most important crop, accounting for about 9% of exports.


47.2% of the population is estimated to live below the official poverty line (World Bank, 2009). The level of extreme poverty is 17.5%.


The lack of job opportunities drives over a million Tajiks to seek work abroad as migrant labourers (mainly to Russia and Kazakhstan) and their remittances form a major part of the Tajik economy.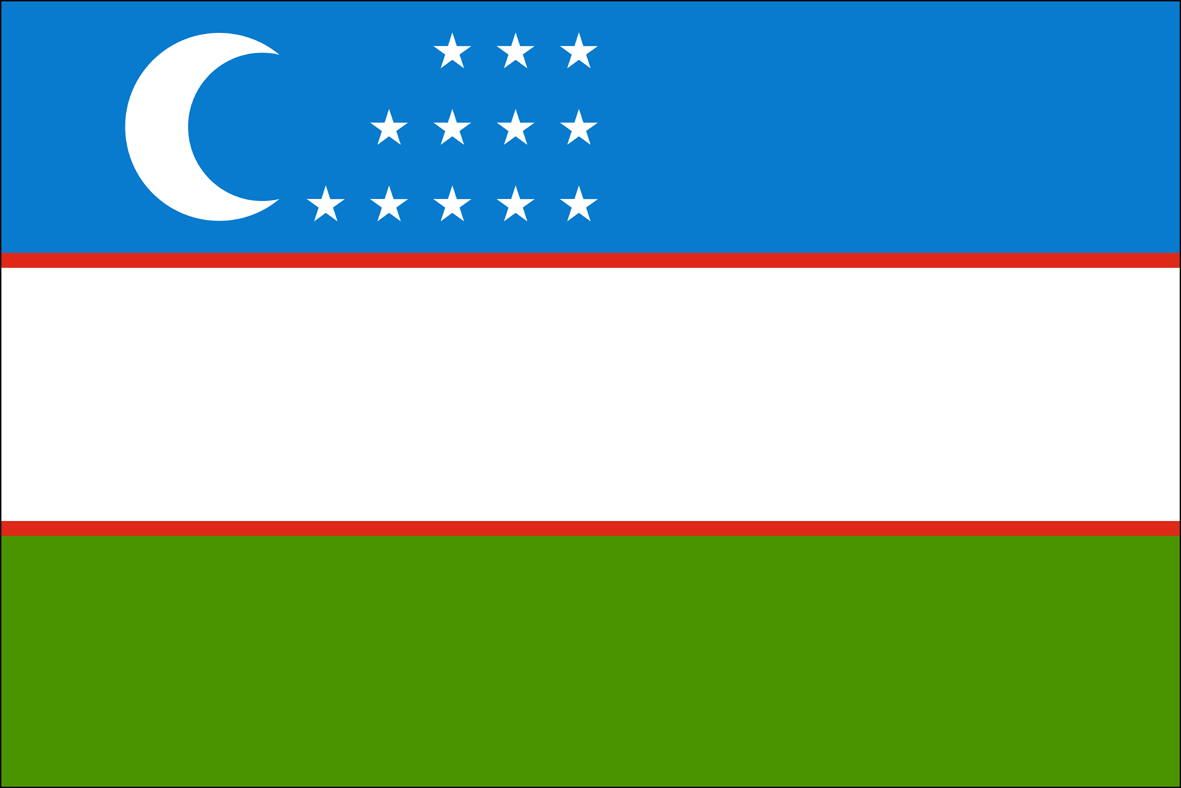 Area: 448,971 sq km
Population: 27.5m
Capital City: Tashkent
People: 80% Uzbek, 5.5% Russian, 5% Tajik, 3% Kazakh, 2.5 Karakalpak, 1,5% Tatars, 2.5 other
Languages: Uzbek/Russian/Tajik
Religion(s): Sunni Muslim (88%), Eastern Orthodox (9%), other (3%)
GDP: US$ 30.68bn
Major Industries: Mining, coal and oil production, hydroelectric power.

Major trading partners: Russia, China, Kazakhstan, South Korea, Turkey, Bangladesh, Ukraine
Key Facts:
Uzbekistan has substantial natural resources, including gas, oil, gold and silver.


Uzbekistan is the world's 3rd largest exporter of cotton.


In the absence of substantive economic reform, the strength of the Uzbek economy is largely dependent on gold and cotton prices.


Uzbekistan's Muslim population has a secular and moderate tradition - but there is a danger that growing poverty, unemployment, combined with restrictions on political and religious freedom, could drive elements of the population towards extremism and terrorism.